항공수송 이동장
Acceptable IATA kennel guidelines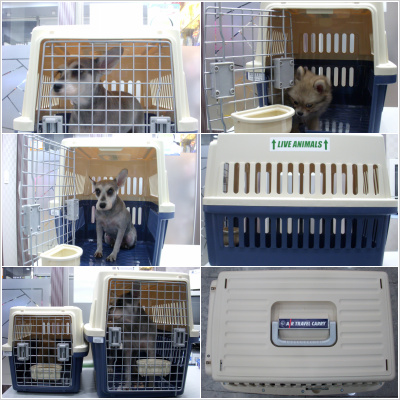 - be leak-proof, escape-proof and the door must fasten securely

- Kennels used for the carriage of live animals must comply with Live Animals
Regulations.

- Kennel door must be constructed of welded or cast metal.
Plastic or top-opening doors are not allower

- The kennel door should be secures, but not with a locking device, which an agent
cannot open in case of an emergency situation. Zip Ties are recommended

- be large enough for animal to stand, turn around, sit and lie comfortably
in a natural manner.

- be clean, with no offensive odors and contain absorbent material

- the use of straw, hay or wood shavings is prohibited

- Kennel must be free of wheels

- be adequately ventilated

- not be collapsible or foldable

- be marked with the word " Live Animal" on the top

- attached labels with the shipper and consignee's name, address and phone number